Show and Tell Saturday Guest Post
I am looking for everyday homeschool families to guest post on my blog each in my new segment each Saturday. Each week I would like to feature a new person to share what they are working on in their homeschool. The posts can range include a fun project that you are working on to an interesting unit study that you are working on. The idea is to get fresh ideas flowing and inspire others who may not be as creative in their lesson planning. If you are interesting in writing a guest post please feel free to
Email Me
. You do not have to have a blog of your own to participate. If you choose to participate, please include a biography so I can give the proper credit to you.
Requirements:
All post must be in English and have proper grammar and spelling.
All post should include at least one photo.
All post must be original works.
You must grab my button below to embedded into your post.
I am looking forward to all your great Ideas.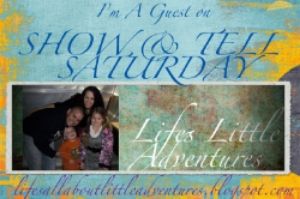 <center><a href="http://lifesallaboutlittleadventures.blogspot.com/p/show-and-tell-saturday.html"/><img src="http://i1276.photobucket.com/albums/y468/Stephanie_VanTassell/f892bc21-a3b2-47b0-9890-035a19a8cabf_zps0fb9de24.jpg?t=1366197032"></a></center>