This week we are studying Native Americans in My Father's World Week 4. This week I will be bringing you at great unit and great resources so stay tuned.
I am putting together a wonderful notebook for this Unit. It will be free for you and available for you to print in parts. The first part of this notebook will cover Native American Shelter.
We made tepees!
We used the following outline that I found
here.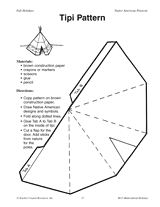 You will also need:
1 piece of thick cut felt. (The kind I used had an adhesive backing)
Glue
Scissors
Markers
Sticks or popsicle sticks
Native American Symbol Chart found
here
.
1. Cut out template.
2. Trace Template onto felt.
3. Cut out felt and adhere template to the felt.
4. Glue edges together.
5. Decorate with Native American Symbols from chart.
Rapunzel's Tepee
Little Man's Tepee
Little Man putting Captain America in his Tepee.


If you enjoyed this post, there will be more great Native American themed printables and activities coming all this week!
This post was brought to you by Stephanie at Life's Little Adventures. If you enjoyed this post please share on
Google +
,
Facebook
, and
Pinterest
.